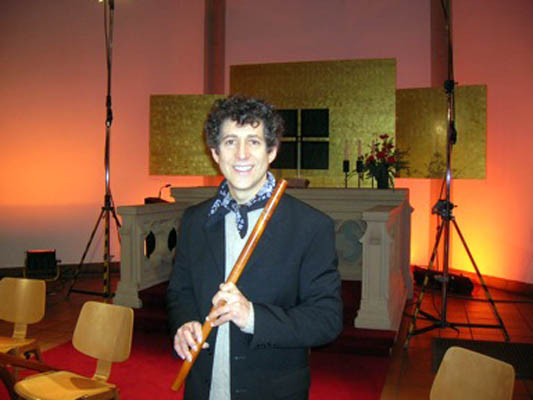 Back

Lepkoff began serious Study of the Recorder in 1975. He studied recorder with Bernard Krainis, Charles Coldwell, John Tyson, Marion Verbruggen, and Frans Bruggen. He studied the Baroque flute with David Hart, Sandra Miller, Barthold Kuijken, and Wilbert Hazelzet.
He has had a 25 plus year career with the Boston Camerata recording and playing both the Renaissance and Baroque flutes as well as the recorder. In American music programs he has performed on the guitar as well. He has recorded with Baritone Daniel McCabe on the Fleur De Son Label, a CD entitled, "The American Idyll", which received accolades from the New Yorker Magazine in 1999.
Lepkoff is an expert on French and Italian style Baroque ornamentation and performance practice. And has lectured at the Smithsonian Museum, New England Conservatory, and at the Louisiana University. Lafayette.
Lepkoff has performed in many festivals around the world including those in France, The Netherlands, Singapore, Israel, Japan, Norway, Great Britain, Germany, Spain, Portugal and in the U.S.. His performances include appearances with the Smithsonian Chambers Players, the Musicians of Swanne Alley, The National Symphony, and the Arcadia Players. He performs regularly with The Boston Camerata and has recorded over a dozen CDs with them on the Erato and Nonesuch labels including a medieval version of Tristan and Iseult, which won the "Grand Prix Du Disque." He has recorded for Radio France, and appeared Live on WGBH radio.